.....I apologize for how emotional this blog will off the bat. I'm crying, because I realized stuff after the car crash.
To start, I was just driving on St Charles Rd towards my home on President St. I just turned left off Schmale road and was going like 35. A black Mercedes to my right was waiting to turn into traffic heading the other way. He didn't see me and just drove forward. I was too late to brake fully and ended up hitting him hard with my left front light as he was turning left to go the other way. The left side of his nice car from wheel to wheel got scrapped and dented and to my surprise, my Camry was only dislodged from the corner atop the left front wheel. Besides that, just the paint got scratched off and my light broke. I can't say how impressed I was with my little car.
Anyway, it happened, I turned off my car and stepped out angry. I slammed my door shut and told the asian idiot to step out but he didn't listen and just looked away. I called the police, yata yata...he's fully responsible for the damages on both cars and got a ticket.
My mom was in the car with me but she was fine. I thought I was to, but that was just my adrenaline. Cause now I'm in full blast pain from where I got the epidural for the C-Section and my neck hurts to turn to the side.
When my mom left with Vicky, who came cause the car is still under her name, I was left alone to think about what happened and calm down because I was shaking quite a lot.
I looked back, to Elvis's baby seat....and began to cry.
My seat covers had blocked the safety lock on the back of my seats to close right and so my seats flew forward when I braked....Along with Elvis's car seat. (You see, my car is one of those that you can bend the back seats down so you can see the truck.)
For some miracle of god, I decided last minute to leave Elvis with Vicky while I picked up my mom from work. I began to cry because...I'm pretty certain....My son would have............he would have....
I don't want to think about it. I just got mad again and through the tears and reached around and pushed the seats as hard as I could backwards and just began to cry. That could have been my son...His seat was...touching the back of the passenger seat and it was tilted to the left. the seat belt holding it in place was tightly around the neck of the seat...where his throat usually is...
I have never felt that kind of panic in my life. I started hyperventilating and then just crying again cause I was thankful he was not there. I would have ended my life right there and then if something happened to him.
Anyway....I called Jan....because as I thought of it...I realized...Before I hit the car..........Jan's, Elvis's, Jes's face popped into my head. I heard their names. It happened so quickly....I don't even know how to begin to explain it....
When they say your life flashes in your head when your in danger...they were not kidding. It was a horrible thought. I knew Jes wouldn't answer...and why should he...he doesn't love me either way...why bother him...
So I called Jan.....2 times....No answer...just pushed to voice mail. And as I sat there, about to call the 3rd time...I threw the phone to the backseat and sat there...covering my face...
Why am I calling him?
Neither of those two men care enough about me....why should I call either one of them?

And than it hit me...
A pain I've never felt in my life before and never want to feel again.
I hadn't even felt this way when Jan told me what happened that one night and I literally fell to my knees and rolled into fetal position and started crying my soul out.
Not even that pain matched this...It was a pain of totally desperation...helplessness....it was a pain realizing that if I would have been dying right there and then..........
I would have no one to reach out to and hear their voice before I died. I'd have no one to tell me they loved me before it all ended...
My absolute biggest fear in life is to die alone...It's a phobia...I hate being single and I hate being alone and It terrifies me thinking I have a chance of dying alone...and today...I came close to that phobia...
What if I would have been dying and I choose to call him...He wouldn't have answered...and I wouldn't want to distress Jes before he goes to war by telling him I'm dying...he would never find out...so then...I'd just......I'd die alone...
I can't describe the pain I feel...I've lost all hope completely....Before, I might have been dramatic to say I'm alone in this world....But today....just now........it just.....I guess I wasn't being as dramatic as I thought...
I would literally have no one -and I mean a lover not family or friends- to be there with me if I were to leave this world. I'd go alone...but maybe.......that's what I deserve...
....And...its funny.....how many people would get angry with god after thanking them for saving my son's life....be angry that the one time I could have died without killing myself, just a legit way...he decided to keep me alive. I got angry with him and ended up kicking my back wheel just repeating over and over in my head...
You should have killed me! You should have just taken me away from all this! Elvis is fine...he wouldn't remember...it wouldn't hurt him...You should have just taken me back home..
Over and over....angry with god...because he didn't let me die.
.......I should have died........I want to die.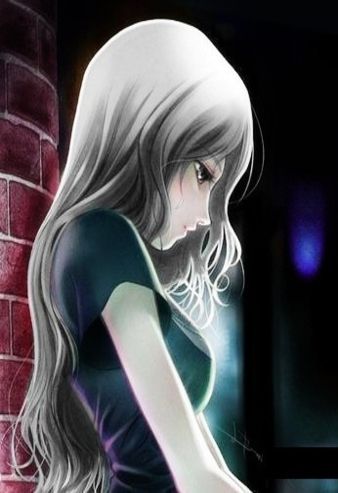 The feelings back....That depression I haven't felt in a while...that full blown feeling....it's back...and it's hitting me full force this time.....And all i want to do is dig my own grave and shoot myself in the head...end all of these thoughts, these useless feelings, this pain...just end it. I was trying so hard to fight off this lingering feeling...that stupid emotion...I was trying to hard to keep it at bay, keep it under control without the help of anti-depressants. And I was doing it...but after today....after realizing I'm alone after all....My walls fell...and the blackness is just absorbing every thing I was proud of myself for doing, like school and work...it's eating me alive now....and I feel nothing but emptiness and pain....even the love for my son isn't enough to make me stop wishing I was dead...that's how bad it is.......If you have never felt this feeling...be thankful...its explainable...
I apologize in advance for how moody I'm going to be for the next few weeks. When I'm in this mood...I have mood swings bad enough to make me look bipolar. The reason being that....well...think of it like this...My depression and the feeling of needing to die...it's an infection. They've knocked down my wall and I need to rebuild it, all while killing these thing and pushing it back outside of my system. So little by little, I'll seem happy because I'm pushing it out....but it will get my easily with anything that happens...any drama, any argument...it feeds it. Then I go back to being a bitchy, dark, emotional bag of shit. I'm sorry. And don't worry...I know how to handle the feeling...Its an old friend of mine. I'll be fine. I won't kill myself...I don't think there is anything worse then realizing you're alone in this world besides...something happening to Elvis...which it won't.
Thanks for reading. Now fuck off.